Aimed at the Instituto Superior de Entre Douro e Vouga community, the webinar Simple and advanced research in the EDS Discovery Service took place on April 18, 2023, a session attended by teachers, researchers and students of the institution. The training made it possible to learn about the functioning of the platform that facilitates research and is part of an initiative that aims to promote information literacy skills that allow the search, selection and location of articles and content that help in the course of investigations.
In addition to presenting the platform, it was explained how to take advantage of EBSCO's resources in the search for information that is useful for carrying out works, reports or dissertations. During the session, it was possible to view the application of filters that allow you to restrict the search scope and save the results of what was searched, in addition to other useful features.
Access to the platform can be done
HERE
.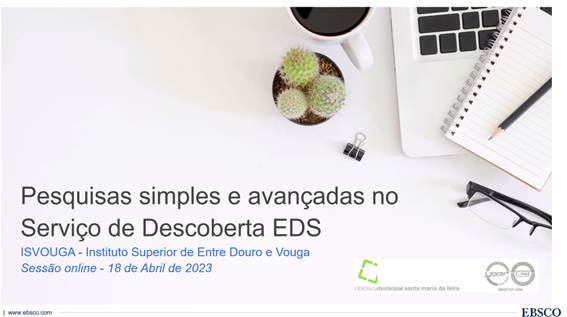 LastModificationDate 2023-04-26 10:05:26